The wholesale real estate contract is more simple that the standard purchase and sale agreement. Since wholesale deals are primarily built around the buyer paying all cash, the need for contingencies aren't necessary.
Real estate wholesaling is a two-part transaction. First the contract is executed with the seller. Second, the assignment agreement is executed with the buyer. Both of these contracts are required.
How to Write a Real Estate Wholesale Contract
When you're learning how to write a real estate wholesale contract, it can be intimidating. Executing an agreement when purchasing the property solidifies the deal. The key is to remember that there are only 5 elements that make a contract enforceable. Be sure that your contracts contain all of the essential components.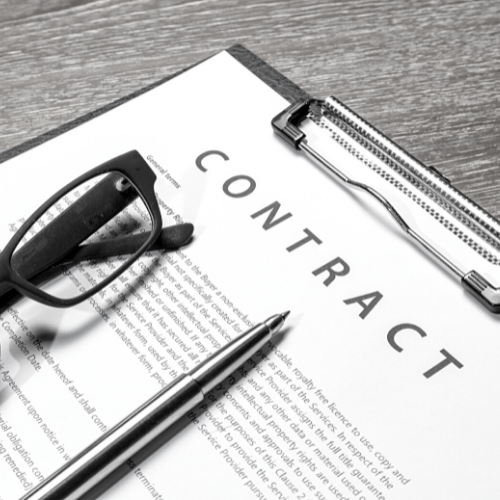 ---
Names of buyer and seller must be on the contract
Purchase Price
Consideration / Earnest Money Deposit
Description of Property
Signed by both parties
---
Since a real estate wholesale transaction is relatively cut and dry deal, learning how to write a contract will be easy.
You can use any Standard Purchase and Sale Agreement for Real Estate if you choose, or you can simplify things for your seller and use an "All Cash, As Is" Contract.
---

It's convenient to have contract template on hand. Just fill in the blanks and ask for signatures. Additioanlly, it's helpful to be familiar with every sentence that's in your contract.
As you build your real estate wholesaling business, you can add or remove clauses in your contracts.If they don't fit your business model get rid of them. Furthermore, always consult with an attorney for the best legal advice when it comes to contracts.
As a courtesy, you can download this free Wholesale Real Estate Contract Template and use it in your buisness. Full Disclosure: Property M.O.B. is not an attorney and isn't offering legal advice. Any contracts on this site are offered as a courtesy only and should be reviewed by an attorney in your state.
---
Wholesale Real Estate Assignment Contract
There are a few ways to sell the property to a new buyer. The easiest way is to complete a simple Assignment Contract. This simply states that your interest as the buyer in a contract is being assigned to a new person, for a higher price.
Once you find a buyer for your contract, it's easy to assign the contract to another buyer. Don't be intimidated by the use of contracts. The templates written here are written in simple terms and can be downloaded for free.
The assignment fee is collected at the time of contract, or you can get paid at closing.
Download this free Wholesale Real Estate Assignment Contract and use it in your buisness. Full Disclosure: Property M.O.B. is not an attorney and isn't offering legal advice.
Wholesale Real Estate Contract PDF
The easiest way to be prepared to sign a deal with a seller is to have a wholesale real estate contract in PDF format. That way you can fill out the form using your tablet or smart phone on the fly. Once you get "fancy" you can have a digital signature subscription on your tablet and request digital signs.
Download the free contracts that we offer here so you have something when you go to your appointment. Take the time to review it so you know exactly what it says.
Close 200% more deals when you hire a Virtual Assistant to help you Organize, Automate, and scale your Business!
Your new Virtual Assistant will come pre-trained and well prepared to add value to your business.
Get Started Today with your VA, and experience what it's like to finally get rid of the tasks that eat up your time and prevent your from being the most productive you can be!