My real estate wholesaling business has been automated for several years now, so I can certainly share with you some realistic expectation as far the cost to set up real estate automation systems for everything.
Cost To Set Up Real Estate Automation Systems
First, I want to begin with the fact that time is money. If you're thinking about a real estate automation system, then you value your time. You've made the realization that your time is worth more than the money that you'll spend to pay other people to do it. So, congratulations!
Everyone should value their time, as we're not promised tomorrow. Now realize that you can make just as much money as you make right now, or possibly MORE by hiring a team to help you accomplish higher goals, and your concern about the cost to automate your real estate business will seem silly.
Thinking about how to automate your real estate business? Setting up real estate automation systems is a massive project. In fact, it's hard to explain the complexity of it if I really start thinking about it. It has taken me years of trial and error, and trying different real estate automation systems to finally get my business to point where I can leave for a week, a month, or even 6 months and things will still run like they should.
It takes a team of people to make this happen. You can't automate the real estate business alone.
In the list below I'll touch on the most important people that you need on your team to automate the process. From there, you can decide how much of your business that you want to automate.
Virtual Assistants
Virtual Assistant – having a trained real estate virtual assistant is definitely the key to running a successful business. This person is responsible for all of the administrative tasks that pertain to a successful real estate transaction.
Managing Marketing Campaigns, Due Diligence Research on Leads, Comparable Sales, ordering Title Work, Transaction Coordination, Managing Other people on the Team, Keeping Track of Expenses, Reporting, Marketing, etc.
I could go on all day about how much value is in having a good virtual assistant on your team. I couldn't survive without my Virtual Assistant, and she adds more value to our team than she will ever know.
If there's one real estate automation system that you should consider adding to kick start your automation process, it's definitely a virtual assistant.
Cost to Hire a Virtual Assistant – $636/month (based on 20 hours per week @ $7.95 per hour)
CRM: Software
CRM- I started using a CRM in 2010. Over the past 6 years, my real estate business has evolved into something that is precisely managed and operated. All made possible with the help of the CRM.
The key to having a CRM in your company is actually using it and learning how to navigate around it for optimal functionality. Be patient with any new CRM that you subscribe to. It takes time to learn the ropes of these real estate automation systems. And, it takes time to make updating the CRM a habit.
Once you start really using a CRM and realizing how powerful it is, you'll wonder how you ever got anything done or closed ANY deals without it.
Cost for a CRM – $80 per month (based on $40 per month per user / 2 users)
Related: How Long Does It Take To Set Up Real Estate Automation Systems?
Answering Service/ Inbound Calls
Answering Service – someone answering all of your phone calls is another MUST when it comes to real estate automation systems.
The thought of answering the phone almost makes me want to just throw the towel in. There's no way in hell I'm ever going to do that again. And you shouldn't either!
Think about it, when you outsource your calls to a live receptionist, you'll never talk to a non-motivated or pissed of seller again. You'll never miss a call, you'll never miss an opportunity to capture a lead, and you'll never have to strap your phone to your hip in fear of that ONE seller calling that you can buy their house.
As far as expense, I've compared the cost of hiring someone to work in the office 9 – 5 to take live calls. But then who would take the calls after that? I did the research and discovered that 36% of all seller calls come in BEFORE 9 am or AFTER 5 pm! It's a no brainer decision to hire a 24 hour live receptionist to take your calls.
I use PatLive for my seller calls. I've used them since 2006. They never miss a call and every single caller's information goes directly into my CRM. PRICELESS.
Cost for PatLive – $3.00 per call (based on my averages from 2015)
Property Inspector
Property Inspector – Performs photos and Condition Reports. This person is your eyes at the property. They should report everything that they see (or don't see). Including sellers motivation/comments that they make while they're at the house, permits, utility information, structural problems, quirky things about the property, neighborhood, etc.
They basically tell you everything you need to know about the house and the condition of the house so that you can make a more informed decision.
Cost to Hire a property Inspector – $50.00 per property (based on average)
Related: Do You Need Some Help Automating Your Real Estate Business?
This job is probably the one that I would hand over LAST. And that is after all other real estate automation systems under control. It takes specialized training and practice before one can consider them an expert at this job.
But once you find someone who is excellent at communicating, has good work ethic, and does a great job with FOLLOW UP, then you'll have it made in the shade.
Cost to Hire an Acquisition Manager – $500 per deal for beginners and work up to a percentage of the deal
Cost to Hire a Sign Guy – $1.25 per Sign
I can't give you an accurate estimate of how much you'll spend on miscellaneous software and other things in this category. Some people get carried away with this one, always looking for that next shiny object. I can only offer advice that if you want to keep your expenses low and your profit high, then only pay for the real estate automation systems that are necessary.
Sample Cost Estimate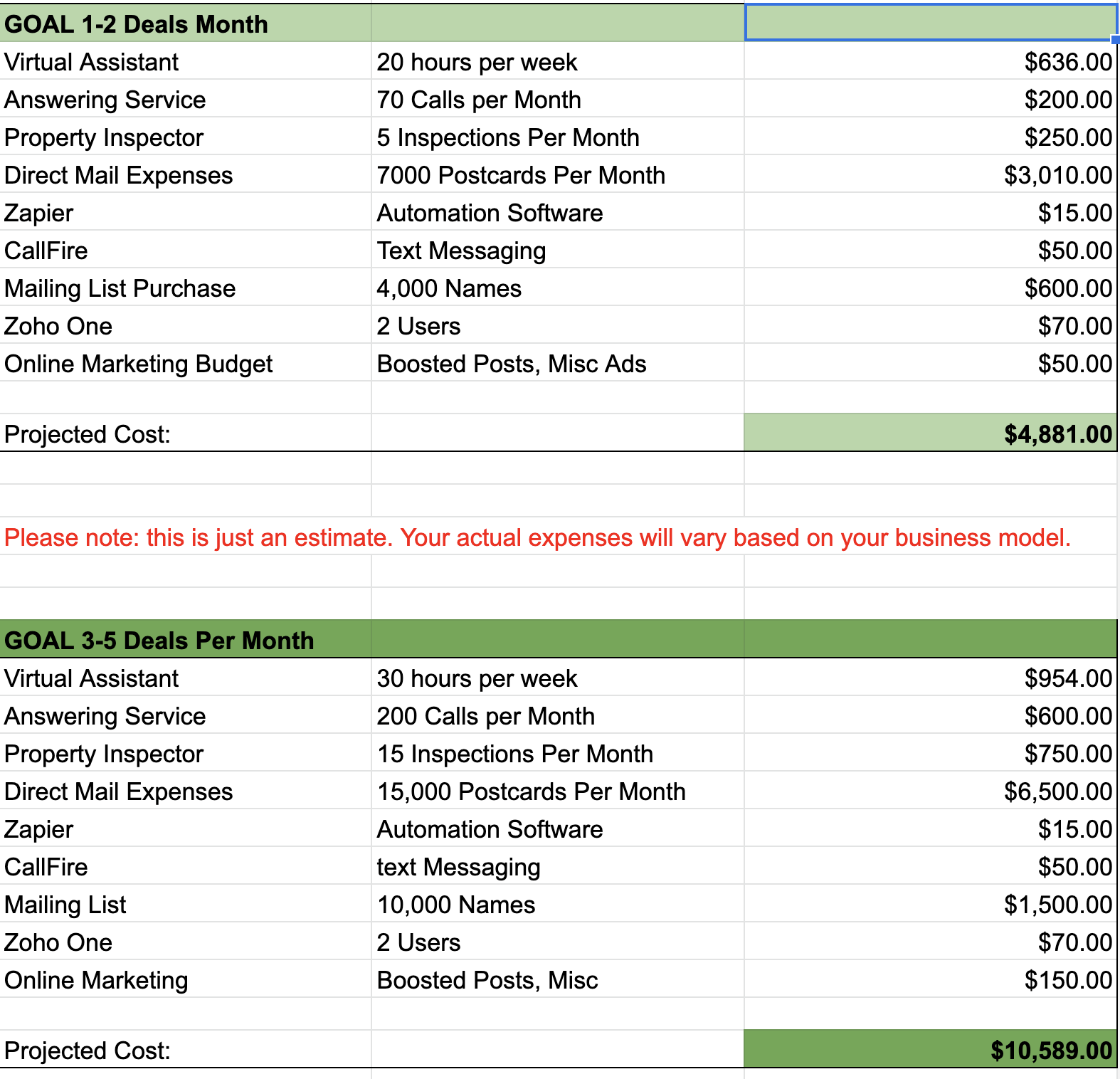 The actual amount of money that you spend on automation is totally dependent on the volume of leads and deals that you're doing. If you're only sending out 2,000 postcards per month, then your cost will be much less than someone who sends out 20,000 postcards per month. With this itemized checklist, you can get an idea of what to expect once you start exploring your options for real estate automation systems.
Now once you put that into perspective, try to put a monetary value on your time. It's practically impossible. The cost of outsourcing is ridiculously inexpensive compared to the quality of life that you can experience. A new level of business management will unfold.